"It is our collective and individual responsibility to
preserve and tend to the world in which we all live."
— The Dalai Lama.
Thank you for visiting our website. Sacred Earth Enterprises is an evolving research and consulting company based in Loveland, Colorado, USA. We have an ambitious global vision and  believe our climate restoration projects are of critical importance to the future of humanity. We invite you to get involved in whatever way feels right to you.
Our mass-producible, technology-enabled projects will reduce greenhouse gas (GHG) emissions, capture atmospheric CO2 and convert dangerous GHGs into useful, marketable products – including large quantities of organic food. We aim to solve major issues of climate, energy and agriculture, and to help restore a healthy planet for our children and grandchildren – to the seventh generation and beyond.
The market for our products and installations is enormous, beginning with each of the 197 sovereign nations which signed the Paris COP21 climate agreement in 2015. Every major municipality on the planet needs the solutions we are designing. Human-friendly new cities can be built in desert environments using our technologies. The list goes on.
Mission
Our mission is to discover, design, develop, and promote the 21st Century's most effective climate restoration technologies and related business ventures.
The science of climate restoration is well-established. The engineering and the scale might be challenging, but nowhere near as complex or expensive as putting a man on the moon, or building a space station in orbit. Importantly, our climate ventures are designed to be profitable.
"Scientists investigate that which already is.
Engineers create that which has never been."
— Albert Einstein.
Seed Funding
We are raising a proof-of-concept startup fund of $5 – $10 million, including but not limited to tax-deductible donations via our fiscal sponsor The Earth Restoration Alliance, Inc, a 501(c)3 not-for-profit educational organization. The funds will enable us to accomplish the following over the next 24 – 36 months:
Purchase a 5-acre rural property and build a non-profit Institute for Climate Restoration.
Incorporate a for-profit design, manufacturing, marketing and project management company called Sacred Earth Enterprises, Inc.
Expand and solidify our business infrastructure and inter-business relationships.
Clarify branding, entity, legal, licensing and intellectual property issues.
Identify and assemble a competent, experienced core operating team.
Conduct necessary R & D work, including  downstream product manufacturing options for the captured carbon.
Develop strategic alliances with global philanthropic and impact-investment organizations working toward climate restoration.
Develop realistic 2, 5 and 10-year pro forma financial projections.
Build and test a full-size working prototype of the mass-producible Carbon Capture Module™, and run data tests to determine optimum chemistry and effectiveness.
Develop architectural and engineering plans and cost accounting for a fully-operational, AI-enabled, mass-producible EnviroPlex™ prototype. The EnviroPlex™ pictured above consists of four such modules.
Produce two short promotional films, The Future of Food and Climate Control.

Lay the groundwork for major investment partnership/s followed by full global deployment.
*Note: The intellectual property, inventions and trade names Carbon Capture Module™, EnviroPlex™ and EnviroVillage™ are globally IP protected by blockchain-based Time Stamped Authority (TSA) certificates. TSA certificates are recognized throughout the European Union, in an increasing number of US states, and in China, Korea and Japan.
Please consider donating to, investing in, or otherwise supporting our efforts. We have self-funded all of our work up to this point, but we need major support and collaboration to launch these ambitious ventures.
If you would like to make a tax-deductible donation, we have a fiscal sponsor for that purpose: The Earth Restoration Alliance, a 501(c)3 not-for-profit educational organization.
Please email: acb@circularcity.us for details on how to get involved, how to make your tax-deductible donation, how to receive a copy of the EnviroFarm™ Systems, LLC business plan, or to answer any questions.
NOTE to philanthropists, impact investors and abundance-minded entrepreneurs:  After reviewing this website, you might want to get involved immediately. There are many ways you can support and/or invest in the EnviroFarm™, the Carbon Capture Module™ project, the EnviroPlex™, the EnviroVillage™ and other Circular City initiatives right now.
These  projects are ready for philanthropic support and/or for-profit investment. Please click on the links below for details:
You are invited to join us in this most important (and profitable) of ventures!
Our grandchildren and other planetary inhabitants will thank you!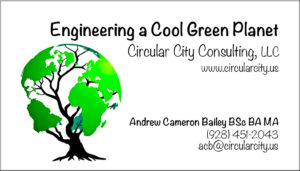 © 2017 Andrew C. Bailey/ Circular City Consulting, LLC.
All rights reserved.
eMail: acb@circularcity.us