Introducing Circular City Consulting, LLC d.b.a Sacred Earth Enterprises
The Circular City Consulting, LLC team has developed an integrated response to the technical challenges articulated in the 2015 Paris Climate Agreement. We came into existence in  2016 as a Colorado research and fundraising business in search of viable climate restoration solutions and the companies developing those solutions.
Our initial mission was to discover climate restoration solutions and bring funding to them via our network of wealthy friends and acquaintances. That mission evolved when we discovered that viable climate restoration solutions are few and far between. We would have to develop them ourselves.
As a former organic chemist and chemical engineer, founder Andrew C. Bailey realized that a huge opportunity was staring him in the face. It wasn't long before the Carbon Capture Module™ and then the EnviroPlex™ were in the "agile design" phase. A partnership with the EnviroFarm™ system followed. Our most recent project is the EnviroVillage™ – a replicable co-housing design centered on the EnviroPlex™ and built with "green" concrete derived from atmospheric CO2 .
Our primary mission is to invent, develop, prototype, manufacture  and market technological innovations that have a measurable positive global climate effect when deployed at scale. These innovations include the proprietary  Carbon Capture Module™ and the EnviroPlex™ as well as the EnviroFarm™ system, a well-tested regenerative agriculture technology formerly known as the Circular Farm™.
Our secondary mission is to provide leasable real estate opportunities and to  develop marketable products from the captured carbon: organic foods, building materials, fuels, carbon-fiber materials for 3D printing and more. Our activities will include soil restoration, electricity generation, water purification, and tree-planting campaigns.
Sacred Earth Enterprises, Inc., soon to be launched, will be the global business entity that manufactures and distributes the CO2-removing CCM™ modules, the EnviroPlex™ air purification installations, and the  EnviroFarm™ regenerative agriculture systems, each of which will provide multiple benefits to the communities in which they are installed, greatly reduce human health expenses, mitigate climate damage and bring significant ROI to investors.
The Challenge We Seek To Overcome
Planet Earth has reached the tipping point. There is not a moment to be wasted. The late Stephen Hawking, one of the world's greatest scientists, warned us that the world of the future will look like this if we stay on our current trajectory.
Sorry, climate deniers, but that is NOT where we are going. We have a more intelligent plan. It will look more like this!
Or it might look like this!
Our Vision
The Circular City initiative, in combination with a swiftly-deployed worldwide program of greenhouse gas reduction such as that proposed by Paul Hawken's book DRAWDOWN and other climate restoration strategies, changes the course of history. We find ourselves living on a cool, green planet to the seventh generation and beyond.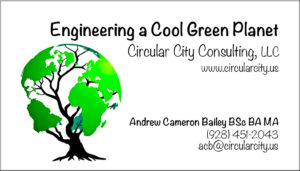 © 2017 Andrew C. Bailey/ Circular City Consulting, LLC.
All rights reserved.
eMail: acb@circularcity.us